BunnyS
Never has there been an orchestral ensemble of & for trans and gender fluid musicians. We will be the first! You will be a part of this!
We are the first and only TransGender Orchestra with BunnyS. 
Our Mission: 1. to entertain you with ravishingly beautiful and cutting edge styles of music performed in unique venues 2. to tell the stories of brave, creative peoples' journeys toward self actualization in a time of great change with serious humor and tasteful eroticism. 
Our musical productions will combine live performed music and film at home in Boston and on tour. Our musicians will be joined onstage by actors & dancers who will enact their stories in living colors with music. 
Join the club of early supporters of this unique ensemble of Trans Musicians with your contribution of any amount!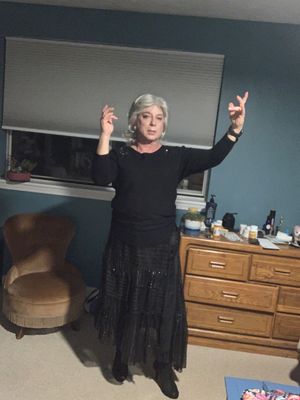 Invest in The TransGender Orchestra
Violinist & Conductor
Violinist
Bunny Shilakowsky is the founder and first violinist of the Shilakowsky String Quartet. Shilakowsky is also an active free-lance violinist and contractor of musicians.  She is equally comfortable performing as a soloist as he is in a group.

Past Performances: In 1994, Mr. Shilakowsky, (original cis male identity) performed as a guest leader (a position leading the violin section) of the London Symphony Orchestra performing recording sessions, tours and performances under music director Michael Tilson Thomas and Sir George Solti, Sir Colin Davis and André Previn in performances with Jessye Norman, Yuri Bashmet, Peter Zimmerman, and Kiri Tekanawa, among others. Upon returning to the USA, Shilakowsky was called to serve as concertmaster for the Bocksch Concerts Production of My Fair Lady, the European Tour with Maximillian Schell.

Shilakowsky is a former concertmaster of the Charleston Symphony Orchestra which was directed by David Stahl, the New Orleans Symphony under Maxim Shostakovich, the Omaha Symphony directed by Bruce Hangen, the Grand Rapids Symphony, directed by Semyon Bychkov, the Orquesta Sinfonica de Las Palmas and the Des Moines Metro Opera Orchestra.

She has also worked with the Boston, Chautauqua and Nashville Symphonies, the Buffalo Philharmonic, the Handel-Haydn Society of Boston, and the Opera Company of Boston. Other recent U.S. free-lance work includes guest-concertmaster work with Vermont Symphony, the Granite State Symphony and the Nashua Symphony. 

As solo violinist, Shilakowsky appeared with the New Orleans, Omaha and Charleston Symphony Orchestras, the New England Conservatory and Grand Rapids Symphony Orchestras and in live recitals on NPR Stations in Boston, Omaha and Nashville. She performed recitals in 1999 in Brockton, MA at Temple Beth Emunah, in 1998 at the Newton Free Public Library & Jewish Community Center in Newton, MA, and in Johannesburg & Pietersburg, South Africa.
 
conductor 
Shilakowsky is a sensitive and energetic interpreter of many diverse styles of music and has founded and conducted several community, student and professional orchestras. 
  
Education:
Shilakowsky earned his Bachelor of Music cum laudé from New England Conservatory of Music and a Master's Degree from Yale University. His teachers include Joseph Silverstein, Koichiro Harada, Nancy Cirillo, and Leo Panasevich of the Boston Symphony Orchestra, David Cerone, Vali Bluttner and Yair Kless, chamber music with Joseph Gingold, Louis Krasner, Rudolph Kolisch, Eugene Lehner, master classes and chamber music with Oscar Shumsky and members of the Tokyo Quartet at Yale. He was born in Boston, Massachusetts in 1955. He is a Tanglewood alumnus, and is an active composer. He has been listed in 'Who's Who in Musical America'. He has taught at several schools, including the New England Conservatory Preparatory School, the Thayer Conservatory @ Atlantic Union College, and The South Shore Conservatory, where he was the head of the string department, and as an adjunct professor at the College of Charleston.
Teacher
Shilakowsky has been teaching violin since he accepted his first student while completing his Bachelor of Music degree.

"I enjoy taking part as performer, conductor, and audience member. I enjoy studying and teaching about all aspects of the repertoire and exploring the beauty and creative genius of the great chamber music…"
 Please email me to talk about music, discuss the violin, to talk about music and education, performance, if you need music for an event or concert or recording. Tell me about yourself, your dream. And how I can help you get there.